Wally Wallace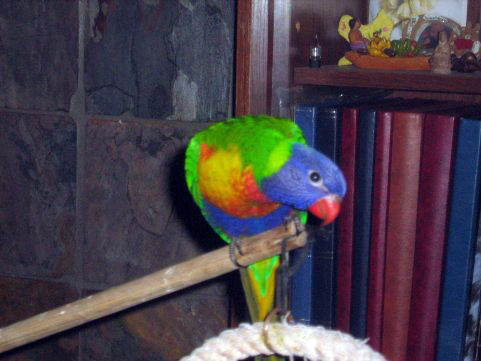 24/05/10 - 23/08/2011
How I Loved You So...............
Extremely Devastated by his passing is an under statement..
He was only 1 year 3 months old
From what I thought was just a sore eye took Wally from us within hours.
We have lost another beautiful wonderful personality, one of a kind, and he will be sadly missed by those who came to know him.
The most affectionate and totally trusting Bird I have ever encountered, more than just a bird or parrot. He was my true friend and he adored me. The sadness is just about unbearable with his empty cage, silence in the house, no one to play with, or hang with. I spent every possible moment with Wally when he was with me. I dotted on him, even to the extent of putting of doing something I wanted to do but gave him my time instead because he wanted to be with me.
Life can suck some times, I seam to be still be hitting brick walls in my life, this one has hurt the most so far....I nearly lost the plot this time...
I now understand the term "insane with grieve"...............
I am still having trouble working on this page as I still miss him a lot and get very emotional every time I do try...Time will heal me I know so be patient with this page please as I do have heaps of photo's and video to post on this page yet...
Rest in Peace Wally
I will never forget or forgive myself..............
Still miss this wonderful bird so much - 19/04/2015
He has been the most affectionate, docile beautiful Rainbow I had the honour of knowing
| | | |
| --- | --- | --- |
| | | |
| Baby Wally | | Baby Wally |
| | | |
| Enjoying my Company | | |
| | | |
| | | |
| | | |
| | | |
| | | |
| | | |
| | | |
| | | |
| | | |
| | | |
| | | |
Just loved to Play
---

---

---